Oreo Peppermint Crunch Cookies. Yeah, now that I have your attention, I wanted to pass along this glorious and almost unnaturally delicious cookie recipe.  Knowing me for the perfectionist that I am (snort, giggle) you do know I made these like, 3 times to make sure they were just right for you. Because I care. Also, because the first 2 batches disappeared while my back was turned.
Oreo Peppermint Crunch Cookies
Prep Time: 45 minutes
Cook Time: 9 minutes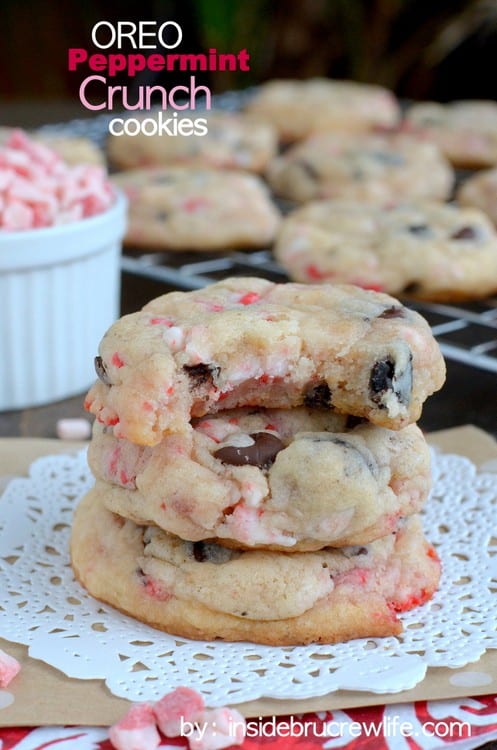 Ingredients
1 white cake mix
1 stick butter, melted (8 Tbsp.)
1 egg
1/2 teaspoon peppermint extract
1/2 teaspoon vanilla extract
4 ounces cream cheese, softened
1 cup Oreo cookie chunks
1 cup Andes Peppermint Crunch pieces
1/2 cup dark chocolate chips
Instructions
Combine the cake mix, melted butter, egg, and extracts. Beat until a soft dough forms. Add the cream cheese and beat in gently until combined. Stir in the peppermint crunch pieces and chocolate chips first. Then gently stir in the cookie pieces by hand being careful not to break up the cookie more. Refrigerate dough for at least 30 minutes.
Roll the dough into 36 balls. Bake on a cookie sheet at 350 degrees for 9 minutes. Do not over bake. The cookies will be very soft and look undone. Let them sit on the hot cookie sheet for 2 minutes, then gently remove them with a spatula to a piece of wax paper on the counter.
Very gently tap the tops of the cookies with the bottom of the spatula to even out the tops. Let them sit until completely cool. Store in a sealed container. Makes 36 cookies.